A favorite story from coaching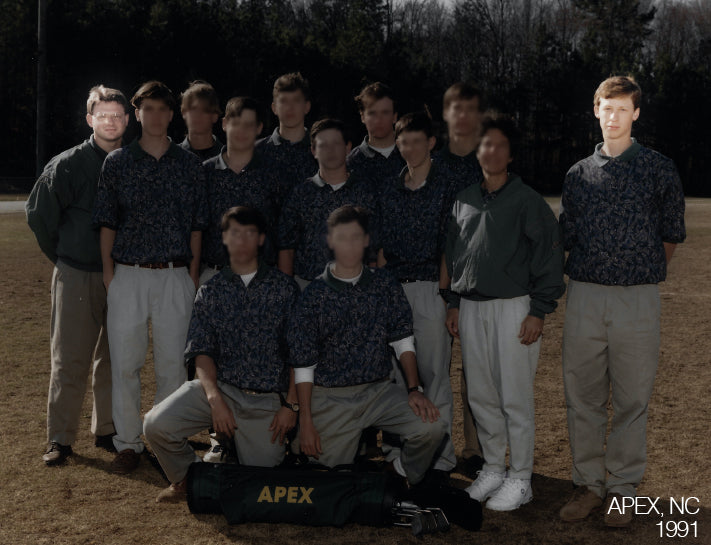 A favorite story from coaching
During one of their first golf practices with Brad as coach, Charlie was chipping to a really close cut, 10 foot pin and was using his lob wedge. Brad suggested using something with less loft. The rest is history and what started out as a great coaching relationship, years later turned into a great friendship that led them to become business partners.
Brad - far left, Charlie - far right. As you can see, Charlie does not seem thrilled in the group photo. The backstory here was that he did not love the uniform he was wearing. From early on, Charlie had an eye for style and this uniform, a current competitor's design, did not please him. Charlie and Brad always get a laugh looking back on this photo.
Where it all started
Where it all started
Fast forward to 2012 when STITCH® was founded in Cary, NC. As you can see, from an early age our founder had a passion for golf, but also was interested in vintage cars. An idea sparked one day when he saw a 1958 Porsche Racer parked. He loved the stripe down the side and began brainstorming a way to incorporate racing stripes into leather headcovers, so you get a little bit of the best of both worlds - golf and cars. The original STITCH® Leather Racer Headcover came to life. It is still our best-selling headcover to this day.
Fast Forward to 2018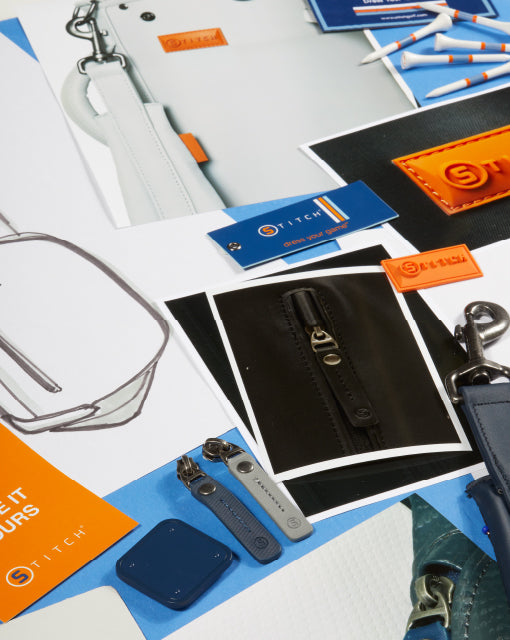 Fast Forward to 2018
In 2018, the previous golf coach became the CEO, and the founder and CEO then got to develop a different kind of relationship, now a business relationship. They both had a bigger vision in mind for the brand, that at the time was solely focusing on custom headcovers. The CEO, a longtime car aficionado and collector, was intrigued by superleggera cars.

Definition of superleggera: superlight, strong, and durable. The interest sparked an idea and the first golf bag was created, the SL1™ standing for Superleggera 1, weighing in at 57. oz and made of STITCH Touring Fabric™, a proprietary material that has the look of leather, but is more durable and resistant. Since then, STITCH® has released a line of innovative travel bags and a full line of apparel, as well as expanding on to the golf bag collection. Now, you will see STITCH® in over 500+ country clubs all over the U.S. and possibly in your favorite player's bag.

Our main mission is to help people DRESS THEIR GAME™, ARRIVE IN STYLE™, and have everything their wardrobe needs to take them FROM WORK TO PLAY™.
Other facts about STITCH®
Other facts about STITCH®
The first large order that was ever placed was from a well known club in Augusta, Georgia. Early on, having the interest and support of such an iconic club gave STITCH® the confirmation it needed to continue on.

As a company that is heavily influenced by vintage motorsports and golf, the golf club known as The Bridge is one that we take a lot of design inspiration from. The club itself, located in The Hamptons, is known for it's modern and futuristic feel, while still paying homage to the history of the land itself. The Bridge Golf Club was once home of the Bridgehampton motor racing circuit, and while the design of the club is contemporary, there are ruins from the old racetrack that can be seen throughout. All of our designs have a touch of modern and vintage to them, while making sure each of our products remain as timeless as the game.
tribute time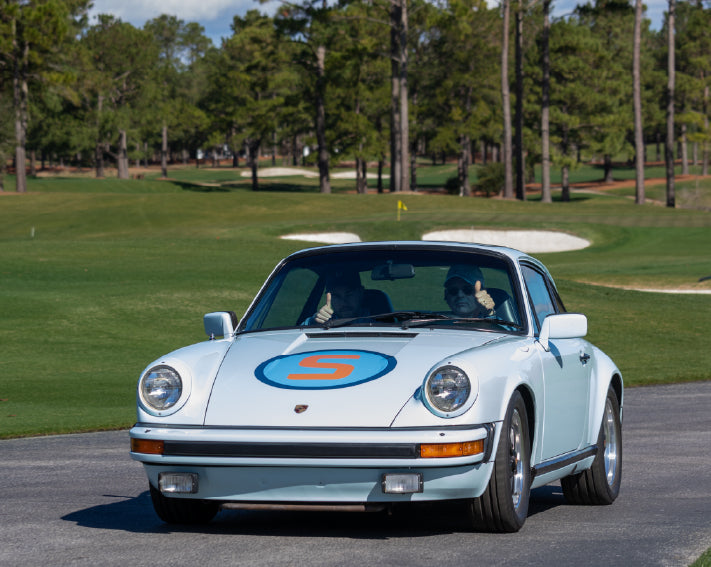 tribute time
Our logo pays a tribute to the Gulf Racing logo. The Gulf Racing Team was sponsored by Gulf Oil who's iconic logo is light blue and orange, with pops of navy. The colors were named heritage color's by Ford after a winning streak. Our CEO actually owned a Gulf Racing car, and had a custom STITCH® vinyl logo added to the hood.